There is never a bad time to have a milkshake. No matter is its cold or sunny, a thick milkshake can make anyones day. Now this is the time of year where you might have leftover pies in the fridge. For me, I tend to have Pumpkin Pie leftover and I didn't want it to go to waste. So in my head, I thought, a milkshake is the perfect idea to satisfy my cravings.
In my freezer, I didn't have regular Vanilla Ice Cream, I had Strawberry and Bananas Foster Frozen Dessert. Now, I know in my head Strawberry doesn't pair well with Pumpkin, so I went ahead with the Bananas Foster. Long story short, it was the best combination.
For presentation, I garnished the shake with a slice of pumpkin pie, whipped cream and fresh cinnamon sticks. You can make your own pie or buy it at your local grocery store. I recommend buying it to say you a lot of time.
In addition, I added vanilla frosting to the rim of the cup with Graham Cracker Crumbs.
What brand of Bananas Foster Frozen Yogurt did I use?
The brand I used is called So Delicious Banana Foster. It's non-dairy, frozen yogurt.
"Made from almond milk, this dairy-free delight undergoes a rigorous allergen testing program and strict quality control measures to prevent any contamination by undeclared food allergens. You always know exactly what's in every pint of this dairy-free frozen dessert, so you can enjoy it. It also contains no GMOs and is certified vegan so people from all walks of life can enjoy it. With no artificial flavors, colors or sweeteners, this is a banana foster dessert that not only tastes great but you can feel great about eating, too" –So Delicious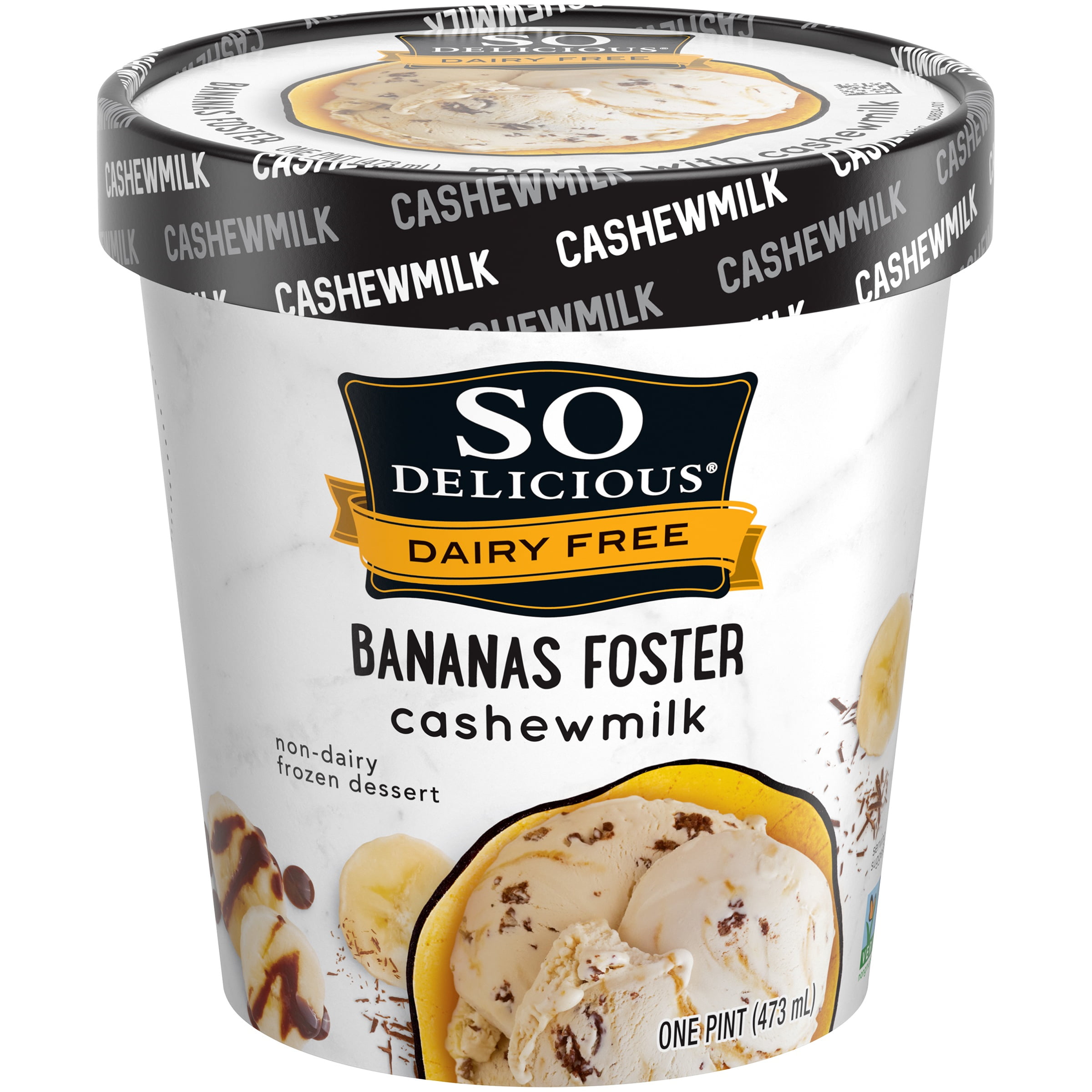 How To Make This Milkshake?
Making a milkshake in general is honestly as simple as blending 4 ingredients! A generous portion of ice cream, a splash of milk, banana and some flavoring. In this recipe the instead of ice cream, we are going to use frozen yogurt. In addition, for the flavoring, we are going to use pumpkin pie and cinnamon.
I like a thick shake, so the banana needs to be frozen before blending.
Yields: 2 Shakes
Ingredients
1 Pint So Delicious Bananas Foster
1/2 Cup Milk (Any)
1 Slice Pumpkin Pie
1 Frozen Banana
2 Cinnamon Sticks; optional
1 Teaspoon Cinnamon
Garnish:
• 1 Slice Pumpkin Pie
• 2 Cinnamon Sticks
• Canned Whipped Cream
Instructions
Add the Bananas Foster, milk, banana, and cinnamon to your blender or food processor. Pulse until mostly smooth.
Add 1 slice of pumpkin, with or with crust, blend until smooth.
Serve with whipped cream top.
Garnish with a slice of pumpkin pie and cinnamon sticks; optional
Add a frosted rim on your cup with any frosting of your choice. Then sprinkle with either cinnamon or pumpkin spice or Graham Cracker crumbs.
Enjoy!
If you make it, tag me on Instagram @
eatwhateveryouwant